Alcove Units
We are Alcove Furniture specialists:
Alcove Cabinets
Alcove Cupboards
Alcove Shelving
Alcove Storage
Alcove Units
Our bespoke alcove units will help you make maximum use of the space in your lounge, while enhancing its features. The alcove is often an underused space, but there is so much that can be done with it thanks to our first rate design team and quality craftsmen here at our North London premises.
We are able to design, handcraft and fit cupboards for alcoves, bespoke shelving and alcove floating shelves. All our products are custom made to ensure you have the alcove furnishing and fittings you require. What is more, our products are designed to fit in with the style of your property, whether traditional or contemporary. Our aim is to create alcove furnishings and fittings that will not only blend in with your surroundings, but also enhance your enjoyment of them.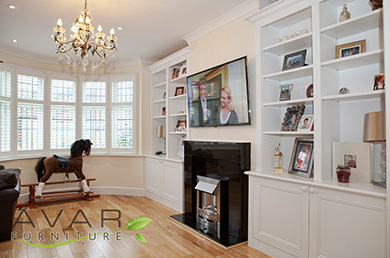 The type of furnishings you will want in your alcove will depend on the use you make of it. If you wish to use it for storage we can design bespoke alcove cabinets. For booklovers, we also design and fit beautifully crafted alcove bookcases. The modern home is also likely to have audio equipment, which is not always the easiest to store or access. An alcove cabinet or alcove shelving provides the ideal solution.
All our products are custom designed and handmade to ensure you receive the product you desire. We will first discuss your specific requirements with you and our design team will provide computer visualised images to allow you to see what your alcove will look like when fitted with our units. We even allow you to see and if need be, alter the final plans to ensure you are delighted with your order. After all, you will have your own ideas of how you want to use your alcove space; we are here to help you explore and achieve those dreams.
There is so much that can be done with an alcove; it is an ideal spot for the TV or audio system. The space offers so many options; for instance, a TV set can be placed on top of one of our custom built alcove cabinets, which can prove useful in hiding unsightly satellite or cable boxes and wires.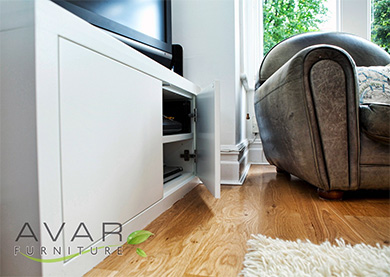 We also help you create the look you want within the lounge by making the best use of the space within the alcove. An idea you might wish to consider is to include fitted cupboards or a cabinet below a bookcase. This will provide added storage space, as well as allowing you to neatly display your collection of books. For that extra special look, alcove units linked by a raised panel base can sit either side of the fireplace. The wide choice available also includes shaker style cupboards in alcoves, and oak veneered shelves units with designer handles providing that final classy touch.
Whatever the type of bespoke alcove units you decide to have installed, ultimately the choice is entirely up to you. Our aim to provide the high quality handmade furnishings and fittings you require, from design to manufacture to fitting.
Alcove Units for our clients in London