Wardrobes in London, bespoke fitted wardrobes, wordrobe design
We are Wardrobe Specialists in London:
Bedroom furniture
Bespoke wardrobes
Built in wardrobes
Wardrobes under stairs
High gloss wardrobes
Custom made wardrobes
Wardrobes for alcoves
Fitted wardrobes
Sliding wardrobes
Hinged wardrobes
Wardrobe furniture
Your bedroom should a place of rest and privacy; also a space for intimacy. The same applies to any guest bedrooms, which should also exhibit real style. One of the best ways to add a touch of luxury to a bedroom is by having built in wardrobes installed. At Avar Furniture we can help make your bedroom even more luxurious with our made to measure wardrobes.
We produce custom wardrobes at our premises in North London. What is more, our fitted wardrobes are made to your own individual specifications. After all, who is better placed to decide the type of bespoke wardrobe required than the customer?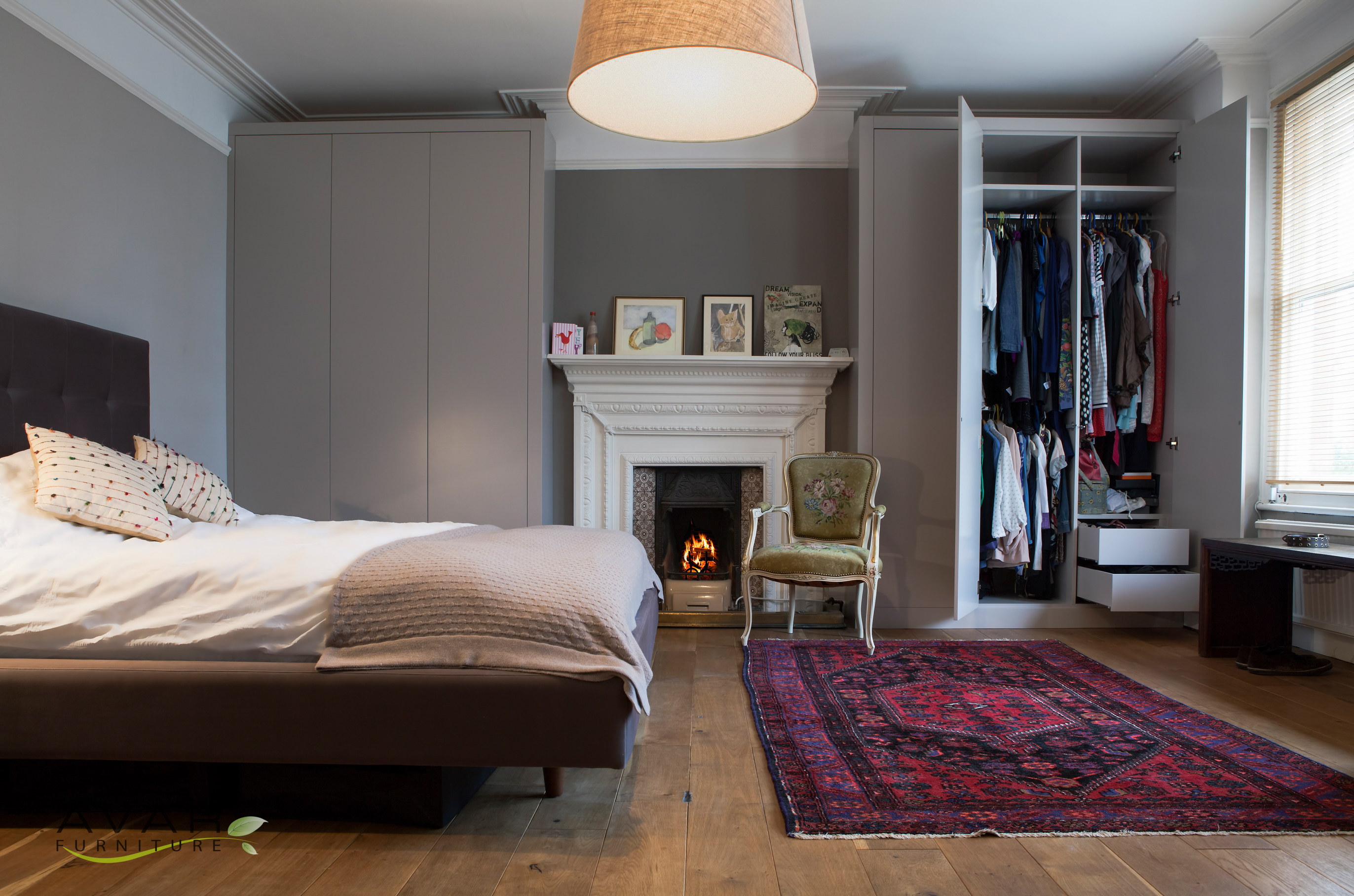 All our built in wardrobes are hand made by our dedicated and skilled staff; none of our products are mass produced. In order to manufacture made to measure fitted wardrobes we first discuss your specific requirements with you. No matter whether your bedroom is traditional or modern style, we will produce precisely the item you want. What is more, your new bespoke wardrobe will be designed to accommodate the maximum amount of storage space possible, leaving your bedroom free of clutter.
Several factors have to be taken into account when designing bespoke wardrobes. The primary use for this type of furniture is, of course, to hold clothes, so our designers have to take into account the lengths of the various items to be housed there.
There is a wide variety of bespoke wardrobes available and we will be delighted to design the solution that best suits you. One option may be a fitted wardrobe with fitted desk and floating shelves alongside. Fitted wardrobes with mirrored doors and drawers are also very popular, maximising the capacity for storage and allowing you to see how you look after dressing up for that big occasion. People living in contemporary or newly re-furbished properties might consider an MDF fitted wardrobe, while those living in Victorian-style dwellings might want to consider a more traditional looking custom made shaker style unit.
No two bedrooms have the same layout and we take that into account when designing your wardrobes. For example, if the bedroom has a low ceiling we can manufacture a bespoke set of wardrobes that make the room look taller. If the ceiling is high we can also take advantage of that feature to make maximum use of space, while still making it easy to reach your clothes. We could fit extra doors above the unit or if the ceiling is really high, create convenient pull-down rails to hang your clothes. Whatever type of wardrobe we design, it will be based purely on your needs and requirements.
Wardrobes in London, bespoke fitted wardrobes, wordrobe design for our clients in London