Bespoke bookcases in London, shelving units
Many of us love reading and collecting books, but after a while they just add to the clutter, unless, of course, they are properly displayed. If you want your living space to look stylish a bespoke bookcase is by far best place to store and display those much cherished tomes. At Avar Furniture we are able to provide a full range of book storage solutions, including fitted bookcases, made to measure floating shelves, and made to measure cupboards.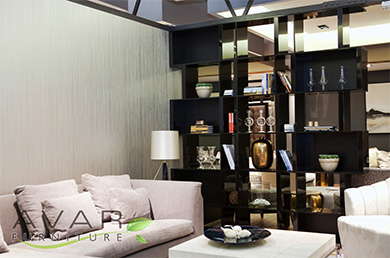 All our bespoke bookcases are hand constructed to the highest of standards at our premises in North London. Our fitted bookshelves are custom made to meet your exact requirements. None of our bespoke bookcases are mass produced. Whether we are building a fitted book case or made to measure cupboards, they are built specifically to the design agreed by the customer.
Usually, our clients are looking for such things as bespoke bookshelves or made to measure floating shelves to fit in the style of their home, be it traditional or contemporary; we are only too willing to help them achieve the look they want. After all, no bookshelf should ever look out of place. Our design team will work closely with the customer to produce the ideal bookcase or shelving to compliment the surroundings. Our designers start by producing computer generated visuals to show how the bookcase, cupboard or shelves will look. The client will even be able to ask for adjustments to be made when the final plan has been produced.
Bookshelves, shelving and cupboards should fit neatly into the room, no matter what its shape and size. That is why our custom made book storage and display solutions are far superior to any "off the shelf" product. Of course, there are also many other factors that help determine the customer's choice.
Some households may have someone studying for exams and it could be that they prefer a desk to be fitted with made to measure floating shelves above it to store coursework books. In another home, a book shelf that either stretches to the top of the wall or perhaps only part way might be required. For those with a multitude of the books the decision may be made to have a book case that stretches along an entire wall. Whether you want your books displayed in a bookcase, on shelving or kept in a cupboard, we are able to expertly design, manufacture and fit the ideal unit for you.
There are extra special touches that can be added when displaying your books. One is to have your custom made bookshelf illuminated; all you need is an electric socket behind the unit and we can produce a beautifully lit bookcase for you and your family to enjoy.
Of course, many people do not only store books in bookcases or on book shelving. Photo frames and ornaments are often displayed there as well. When discussing your book storage and display options with you, we take all such factors, including the size of your books, into consideration. Only by going through this process can you be assured that your fitted bookcase, cupboard or shelving is exactly what you require.

Bespoke bookcases in London, shelving units for our clients in London