Office Furniture
High-quality, office furniture:
Office storage solutions
Folder drawers
Study furniture
Handy office solutions
Fully-fitted office or fitted study ensures important part of modern-day life. Creating an office space with storage solutions that work for you, enables complete organisation of papers, bills and folders into file drawers, books onto adjustable shelves and other beautifully designed solutions.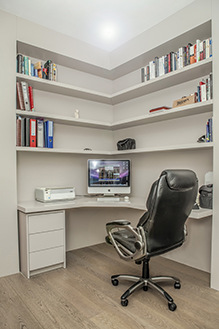 Avar Furniture can design and instal high-quality, bespoke, home office fitted furniture to perfectly meet your requirements, style and functionality, ensuring optimum comfort levels. Our furniture designs allow you to feel at home and at same time you will have all the efficiency and practical uses of an office. All our furniture is manufactured to create the perfect environment for you.
When planning your fitted home office furniture, Avar designer will take into consideration a number of factors to ensure you have a space which strikes the perfect balance between aesthetics and functionality. Office work space is a place you enjoy working in and helps you keep organised and calm, we will spend time with you to understand exactly how you want to use your home office space so that you maximise it's efficiency in use and practical storage space so that nothing is wasted, all this while considering aesthetics of your work space as this is a key part to enjoying your bespoke home office.
With our skills and experience we can offer you a bespoke home office that includes everything you will need from wall units, file drawers, shelves, cupboards or CD racks.
Office Furniture for our clients in London